Best Baklava in Istanbul
Finding Best Baklava in Istanbul
If you want to bring some delicious souvenirs for friends and family, you must get them from the shops selling the best baklava in Istanbul. Baklava is the most famous and delicious sweet dessert in Turkey, and both locals and tourists love its taste. In Turkey, there are different types of baklava. This delicious dessert is definitely one of the best souvenirs you can bring to your friends and loved ones. For this reason, you need to buy these sweets from the best confectioneries and baklava shops in Istanbul to be sure of their freshness, taste and quality. in this article, we introduce to you the best baklava in
Istanbul
.
Karaköy Güllüoğlu in Beyoğlu
The Gologlu family has been managing the baklava business in Istanbul since 1820. That's why, with this long experience, they know very well what characteristics a good quality baklava should have. The family opened their first shop in Karaköy in 1949 and soon became famous in the city for their excellent baklava quality and taste. The confectionery is considered by many locals as well as tourists to be the best baklava in Istanbul.
Köşkeroğlu a Popular Place to Buy Souvenir
Those who think that classic baklava is too sweet and are looking for a more balanced sweet taste, they can find them at
Köşkeroğlu
Confectionery. This place, which offers one of the best baklava in Istanbul, that has created a very good and gentle balance between the taste of sweets, honey and butter. In this confectionery, you can try the best, freshest and most delicious baklava and bring some as a souvenir. There has always been a long line of local people to buy baklava in front of this confectionery, which shows the quality and popularity of its products.
Marmara Pastanesi near Eminönü Kaymakamlığı
As another one of best baklava in Istanbul which started its operation in 2015, Marmara Patisseries has been a boutique dessert shop serving quality desserts as a very modern and top-notch family business. They have made their mission to make the Turkish pastries more vibrant and colorful while using high quality ingredients, free of artificial additives and sticking to modern ways of confectionery making. Here, the prices are most reasonable and hygiene is of outmost importance. It is good to give them a visit in Eminönü neighborhood near Gülhane Park tram stop and get yourself some baklava to go along with a cup of delicious Turkish tea.
Hafiz Mustafa near Istiklal Street and Taksim Square
If you are on Istiklal Street and near Taksim Square, and after a long day of sightseeing and shopping, go to Hafiz Mustafa store.
Hafiz Mustafa
in Taksim Square is one of the oldest baklava shops in Istanbul and is the best place to order a variety of baklava and tea. In this shop, you can order a variety of sweets and Turkish desserts, from delicious and colorful cereals to fruit candies and, of course, delicious baklava. There are many types of baklava here, and you can find almost all of the famous types of baklava in Hafiz Mustafa. If you want to buy souvenirs, this is one of the best places in Istanbul.
Kaşıbeyaz Baklava Located in Nisbetiye
Another of the best baklava shops in Istanbul is Kaşıbeyaz restaurant, which has gained a lot of fame and popularity with its great variety and quality. This restaurant has many branches all over the city, but the best one is the Nisbetiye branch. Because in this branch you can try baklava slices with the taste of carrots and Sütlü Nuriye, which means "milk with Nuriye".
Emiroğlu Baklavacısı Located in Kadıköy
When it comes to baklava, Emiroğlu is one of the first places to be offered. In this store, you can order a variety of baklava and Turkish desserts, so you can find your favorite baklava with any taste. If you go to this baklava shop, keep in mind that in addition to baklava, you can also try the famous Turkish pastry, Su Böreği, which means water borek, which is very tasty.
Gaziantep Baklavacisi near Küçükyalı Station
According to many, Gaziantep's baklava is much better than confectioneries in terms of baklava, and its taste and freshness cannot be experienced anywhere else. Gaziantep offers customers a wide variety of hot, fresh, buttery and delicious baklava, which, along with a cup of tea or Turkish coffee, creates a unique and dreamy combination. The sweetness of Gaziantep baklava is very balanced and there is a good balance between fat and sugar, which allows you to enjoy this dessert better. Whenever your heart desires baklava, you can come to this shop and buy delicious baklava at a reasonable and affordable price.
Hacı Bozan Oğulları Best for Shöbiyet
Another one of the most famous shops for best baklava in Istanbul is Hacı Bozan Oğulları. This dessert shop has become very popular among the local people as well as tourists. Also, it has a wide variety of baklava flavors and shapes. Throughout the week, both on weekdays and weekends, you can go to the shop to try baklava and enjoy famous baklava such as chocolate baklava and shöbiyet.
Gaziburma Mustafa Located in Pendik
Gazi Burma was opened by two Gaziantep brothers in Istanbul and is definitely one of the places to get best baklava in Istanbul today. This shop is located in the pendik neighborhood on the Asian side, and perhaps that is why many tourists are unaware of its existence. If you want to try creamy, walnut, pistachio, milk, and other Turkish desserts like Künefe, be sure to go to Gazi Burma.
Develi1912 Florya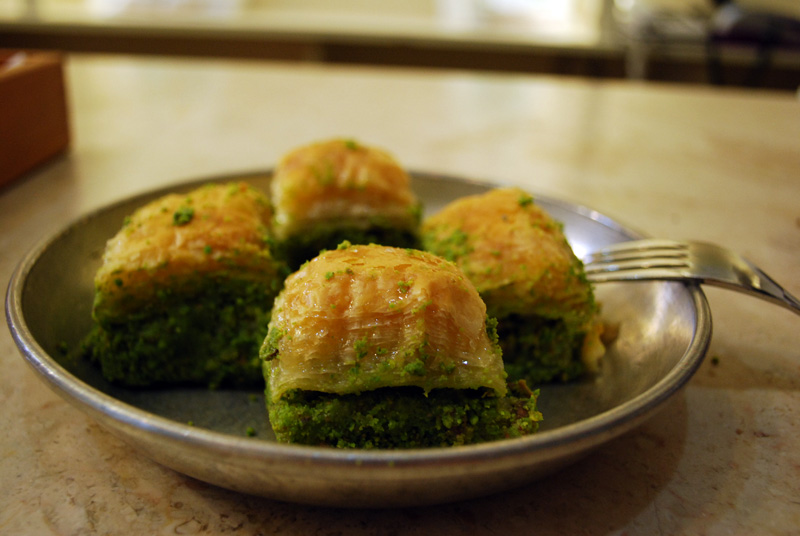 After a day of sightseeing in the spice market and the surrounding neighborhoods, if you want a cup of freshly brewed tea with delicious and fresh baklava, be sure to go to Develi. This confectionery is close to the bazaar and is considered one of the best baklava shops in Istanbul. There are many different types of baklava in this confectionery, which makes it really difficult to choose one of them. However, classic baklava with nuts is always a great and delicious choice.